Schools and Colleges

KEEP FLOORS CLEAN AND
PROMOTE SCHOOL SPIRIT

Restaurant and Hospitality

GREET YOUR GUESTS AND
PROVIDE SAFE FOOTING Read more...

Churches and Synagogues

Logo Mats Inspire at your entry ways.

Yacht Mats

Yacht logo mats are Perfect for boat shows and docks.

Retail Stores

MAKE THE FIRST STEP INTO
YOUR DOOR CREATE A LASTING IMPRESSION.
About Image Matters
Image Matters specializes in floor graphics and floor mats
Our combined 60 years of experience in floor matting and floor graphics, makes us uniquely qualified to solve your flooring needs.
We have solutions that promote brands and products while providing floor safety, cleanliness and a pleasing customer experience.
Now…Why the Lizard in our Logos?
The Lizard is an adaptive . He can blend into his environment, or cath the eye with color. His skin is tough…. His feet are sure and grippy.
That is the Inspiration and the Purpose of ImageMat, ImageFloor and Image Matters Logo Mats.
ImageMat and ImageFloor
ImageFloor Graphic Floor….Go wall to wall with either eye explosive graphics, with subtle themed or patterned graphics, or faux textures like wood grain or marble.
ImageMat Graphic Floor Mats….Deploy quickly and efficiently. Easy to Install. Fastest way to get out your Brand Message to one location or thousands !
Traditional Floor Graphics or floor decals, have been flimsy vinyl, floor graphic stick-downs that require expert installation and even then the result can be "bubble city". They are difficult to remove and impossible to reposition. ImageMats and ImageFloor Floor Graphic Mats are thick and durable. Floor imperfections do not show through. ImageMat and ImageFloor are easily removed or repositioned.
Use ImageMat or ImageFloor for your tough floor graphic jobs.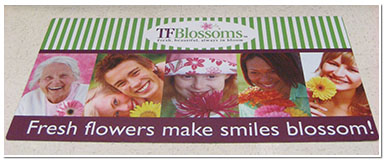 (Visited 12,239 times, 1 visits today)